Legacy Healing Center Blog
Addiction among Emergency medical technicians (EMTs) is often overlooked or ignored. This is as they are thought to be professionals who are immune to addiction. However, this is not the case. EMTs face specific risk factors that make them more susceptible to developing an addiction to drugs or alcohol. As Legacy Healing knows, first responders are not immune to addiction.
Being on the front lines when disaster calls is undoubtedly a stressful job. EMTs are faced with the pressure to save lives, daily encounters with traumatic events, and extremely long and tiring work days.
Unfortunately, many EMTs in the nation are left to hide their addiction and avoid reaching out for help in fear of the consequences they may face. If you or a loved one is an EMT who is suffering in silence from addiction, know that there is help and there is no shame in needing treatment.
Why EMTs Frequently Turn to Drugs and Alcohol
The general public may have a difficult time understanding the high levels of stress that EMTs experience daily. Not only do their jobs involve saving people from life-threatening situations, but they are exposed to violence, death, accidents, and disasters which can bring about severe mental anguish and trauma.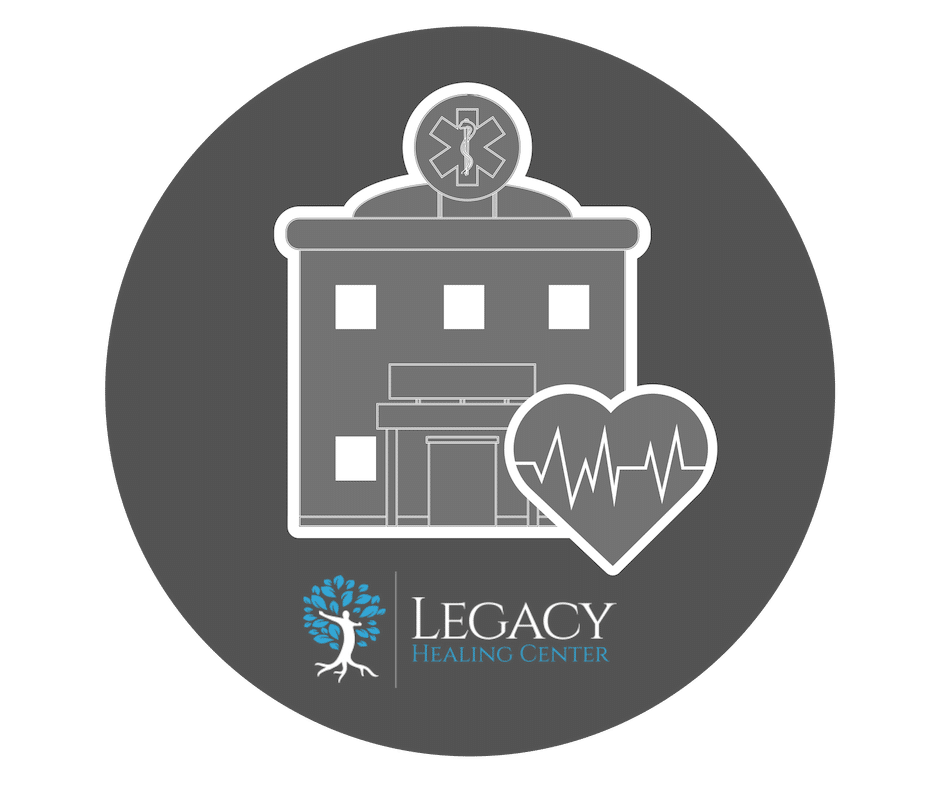 These highly stressful shifts are usually long ones as well, consisting of up to 24 hours on the job. Lengthy shifts and sleep deprivation can quickly take a devastating toll on the mind and body, causing stress and anxiety to accumulate.
In addition to a stressful work environment, EMTs have a relatively low paying job, especially taking into consideration the nature of their duties. Add family troubles, relationship issues, and financial insecurity to the mix of traumatic experiences and a long, stressful work day, and it is no surprise that many EMTs turn to drugs and alcohol to cope with their emotions. EMTs frequently have easy access to addictive medications as well, which makes drug and alcohol use even more tempting.
EMTs are highly susceptible to developing mental health conditions such as post-traumatic stress disorder (PTSD), anxiety, and depression. Trauma is encountered on a day to day basis, and sometimes, a paramedic may be responding to a call where their loved one is the person whose life is in their hands.
This happens more often than one would think and the trauma resulting from such an incident can leave life long effects. Also, EMTs are required to think quickly and take action. Being constantly on their toes and ready to go can accumulate immense amounts of anxiety.
Lastly, due to the variety of difficult situations that EMTs are exposed to, many suffer from depression. When symptoms of these mental illnesses are left untreated, it can be tempting to reach for a drink or a drug to find solace.
Addiction and Mental Health Statistics Among EMTs
According to the Substance Abuse and Mental Health Services Administration (SAMSHA), rates of substance use and mental illness among EMTs are higher than the general population due to the nature of their profession.1
36% of EMTs and paramedics suffer from depression
More than 20% of EMTs suffer from PTSD
69% of emergency services personnel report that they never have enough time to recover between one traumatic event to the next
72% of EMTs experience sleep deprivation
EMTs are ten times more likely to contemplate suicide than the rest of the population
When a mental illness develops, individuals suffering are more likely to abuse drugs or alcohol to cope with their symptoms. Due to the high numbers of EMTs who suffer from mental health conditions and their easy access to potent, addictive substances, EMTs and paramedics abuse drugs and alcohol at higher rates compared to most other emergency responder professions.
Signs of Addiction Among EMTs
With any profession of importance to the safety of the community, it is important to know the signs of addiction to be able to recognize whether or not an individual may be suffering. Signs of addiction that indicate an EMT may be abusing drugs or alcohol include:
Stealing medications
Slowed decision-making time
Impaired judgment
Appearing overly sedated or overly stimulated
Extreme mood swings or behavioral changes
Making frequent errors on the job
Lack of personal hygiene
Arriving late to work or calling out often
Stigma Around EMTs and Addiction
While denial is a common feeling among those suffering from addiction, there is a lot of stigma surrounding EMTs and addiction. Emergency responders are typically viewed as heroic and strong professionals due to their importance in the community.
Although the struggles they face on the job can be recognized, many do not have the therapeutic services available to heal from these experiences. EMTs suffering from addiction may also fear job loss or judgment from their co-workers and the community, causing them to continue suffering in silence.
Avoiding treatment will only cause further problems. Continuing to drown out emotions through drugs and alcohol can make mental illness develop, cause harm to the individual, cause a decline in work ethic, and put the safety of others at risk.
Fortunately, addiction specialists at Legacy Healing Center are ready to help EMTs who are suffering from drug or alcohol addiction.
Alcohol and Drug Treatment in South Florida for EMTs
At Legacy Healing Center, our drug and alcohol rehabilitation program (coming soon) can help EMTs by treating both their addiction as well as any underlying mental health conditions and symptoms. We treat each individual with a treatment program specified to meet their unique needs. Treatment in Pompano Beach can include:
Drug and alcohol detox
Partial hospitalization program (PHP)
Intensive outpatient program (IOP)
Outpatient program
Family program
Individual therapy
Group therapy
Holistic therapy
Behavioral therapy
"We know from personal experience that our holistic healing approach can help people to not only deal with addiction but to thrive in life, free from toxic substances and the lifestyle compromises that come with them."
We understand the unique circumstances that EMTs face on a day to day basis and will help teach them healthy coping mechanisms so they can maintain their sobriety and effectively treat their mental health. If you are an EMT or know an EMT who is suffering from addiction, don't waste any more time. Reach out today to see how our addiction specialists can help.
1https://www.samhsa.gov/sites/default/files/dtac/supplementalresearchbulletin-firstresponders-may2018.pdf